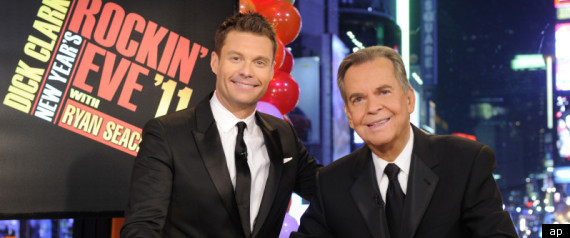 Dick Clark has become synonymous with New Year's Eve, so it's no surprise the renowned television host is back to ring in 2012 and celebrate the 40th anniversary of his iconic program, "Dick Clark's New Year's Rockin' Eve."
Clark will once again make an appearance alongside Ryan Seacrest on the annual ABC special, set to air beginning at 10 p.m. EST on Dec. 31.
But since then, health troubles haven't stopped the indefatigable 82-year-old Clark from taking an active role in his show's production.
Saturday's program will recap highlights from the last 40 years of the show.
"The army of talent we had join us over the years has truly been outstanding, and this year we top it off with an appearance by Lady Gaga," Clark told ABC. "'New Year's Rockin' Eve 2012' promises to be one of the most exciting ever, and I'm proud to be part of the team."
"He still runs the show. He'll make as many appearances as he wants, and I kind of just stand there and take the ball when he passes it," Seacrest told ABC News.