Jenni Rivera, Mexican-American singer, killed in plane crash in northern Mexico; she was 43 years old
Mexican-American singer and reality TV star Jenni Rivera was killed in a plane crash in northern Mexico. She was 43.
MONTERREY, Mexico — The wreckage of a small plane believed to be carrying Mexican-American singing superstar
Jenni Rivera
was found in northern Mexico on Sunday and there are no apparent survivors, authorities said.
Transportation and Communications Minister Gerardo Ruiz Esparza said that "everything points toward" it being the U.S.-registered Learjet 25 carrying Rivera and six other people from Monterrey en route to Toluca, Mexico. The plane had gone missing after takeoff early Sunday.
"There is nothing recognizable, neither material nor human" in the wreckage," Ruiz Esparza told the Televisa network.
Authorities had not confirmed that Rivera was among the dead.
Jorge Domene, spokesman for Nuevo Leon's government, said the plane left Monterrey about 3:30 a.m. after Rivera gave a concert there and aviation authorities lost contact with the craft about 10 minutes later. It had been scheduled to arrive in Toluca, outside Mexico City, about an hour later.
Also aboard the plane were her publicist, lawyer, makeup artist and the flight crew.
The 43-year-old who was born and raised in Long Beach, California, is one of the biggest stars of the Mexican regional style known as grupero music, which is influenced by the norteno, cumbia and ranchera styles.
Jenni Rivera performs at the 2009 Billboard Latin Music Awards in Miami.
The so-called "Diva de la Banda" was beloved by fans on both sides of the border for such songs as "De Contrabando" and "La Gran Senora."

She recently won two Billboard Mexican Music Awards: Female Artist of the Year and Banda Album of the Year for "Joyas prestadas: Banda."

The singer, businesswoman and actress appeared in the indie film Filly Brown, as the incarcerated mother of Filly Brown, and has her own reality shows including "I Love Jenni" and "Jenni Rivera Presents: Chiquis and Raq-C" and her daughter's "Chiquis 'n Control."
A plane carrying Jenni Rivera, seen here at Lilith 2010 at Verizon Wireless Amphitheater in Irvine, California, along with seven others has crashed in northern Mexico, authorities say.
Rivera had given a concert before thousands of fans in Monterrey on Saturday night. After the concert she gave a press conference during which she spoke of her emotional state following her recent divorce from former Major League Baseball pitcher Esteban Loaiza, who played for teams including the New York Yankees and Los Angeles Dodgers.

"I can't get caught up in the negative because that destroys you. Perhaps trying to move away from my problems and focus on the positive is the best I can do. I am a woman like any other and ugly things happen to me like any other woman," she said Saturday night. "The number of times I have fallen down is the number of times I have gotten up."
Jenni Rivera, from the film "Filly Brown," poses for a portrait during the 2012 Sundance Film Festival on Sunday, Jan. 22, 2012, in Park City, Utah. She was killed in a plane crash in northern Mexico on Dec. 9, 2012. Rivera was 43 years old.
The mother of five children and grandmother of two had announced in October that she was divorcing Loaiza after two years of marriage. It was her third marriage.
Rivera is the sister of Mexican singer Lupillo Rivera. Patricia Chavez of Lupillo Rivera's office in the United States told The AP that "for now we don't have any information that would be useful."
Some of Jenni Rivera's items
were found in the crash site.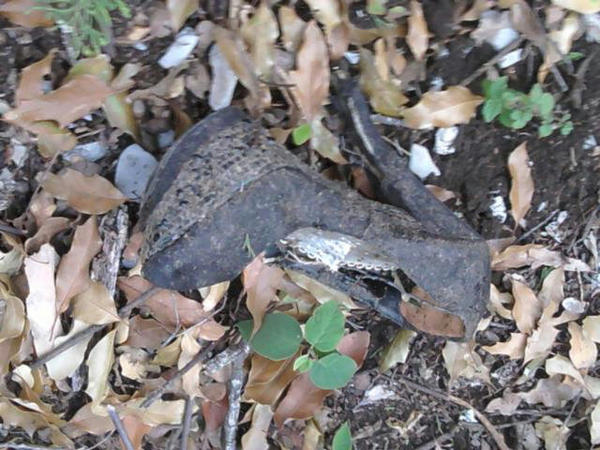 Jenni Rivera License, Shoe, Boot Found at Crash Site
Some of Jenni Rivera's items were found in the crash site.

Her drivers license and a shoe were seen in the rubble of the accident.

The license is pretty beat up – but you can clearly see it is hers.

The high-heel shoe is also a trademark of Jenni's as she loved that style seen
here in the photo.

The boots with the crystals on it were worn by Jenni at her last concert in Monterrey
– check out the pic of the boot that was found next to her wearing it.

Still all so unbelievable.
Jenni Rivera's Brother Describes Morning Of Crash
We can't even begin to imagine what Jenni Rivera's family is going through after such a devestating event!

The Mexican-American singer's small Learjet — which we hear has a history of malfunction! — crashed Sunday morning in Mexico, and even though Jenni's body has yet to be identified, her driver's license was found near the accident site.

When talking to reporters outside the family's home in Lakewood, CA on Sunday, Jenni's brother Pedro Rivera Jr expressed:


"We are feeling devastated. It's a devastation to the family. We were having a beautiful morning and then we received the news from my brother. 'Go see mom because we can't find Jenni's plane, we don't know what's happened to her.'

That's when it started, really early at nine in the morning. I came to my mom's house. We started getting the news. Then at around 5 p.m., we got confirmation that she was gone. It was so painful.

When we do find out what has happened with the body, because they have to get it out of the woods there. As soon as they get the bodies out and we receive the news that they're there, all the family is gonna fly over there and bring our sister back.

We don't know how to thank you for all the love you gave to Jenni and to all the family. It is just so special to have you guys as fans.

Life is like that. We live and we die. We may be sad, but when God has the last word for all of us in our last days, it's time to go. And this was the way Jenni had to go."
The family is currently all together except for Jenni's brother Lupillo, who is flying in from North Carolina.

So many prayers for Jenni's family!

She was an incredible talent and seemed like such a warm spirit. She will be missed by many!
Label: musical in la, musical in la, musical in la, musical in la
Via: NYdailyNews
Via:

PerezHilton