Family and friends of Travis Alexander straightened their backs, edging forward on their seats in the anxious moments before the verdict was read.
The jury foreman handed the verdict to Maricopa County Superior Court Judge Sherry Stephens, who scanned it, then handed it to the court clerk to read out loud.
Then gasps and sighs pierced the silence in Courtroom 5C when it was announced that the jurors had found Jodi Arias guilty of premeditated murder.
Several of Arias' family members wiped away tears. Her mother, Sandra Arias, sat stoically.
Across the aisle, the victim's family and friends, wearing blue wristbands and ribbons that read "Justice for Travis," sobbed and held each other.
Months of testimony drew an international audience that waited impatiently for the verdict. The sensational murder trial will resume today at 1 p.m., as the same jury decides whether Arias deserves the death penalty or life in prison.
In a post-conviction interview with the local Fox TV station, Arias said she prefers a death sentence and she believed the worst outcome would be to spend the rest of her life in prison.
Based on her statements during the interview, Arias was placed on suicide watch, according to the Maricopa County Sheriff's Office.
Arias admitted killing Alexander on June 4, 2008. Alexander, a 30-year-old motivational speaker and legal insurance salesman, was found in the shower of his Mesa home five days later — shot in the head and stabbed 27 times, with his throat slit ear to ear.
After the verdict was read on Wednesday, Arias, 32, fought hard to hold back tears as Judge Stephens polled the jurors on their decision. All 12 said she was guilty of premeditated murder. Seven also thought she was guilty of felony murder, meaning that they believe Arias entered Alexander's home with the intent to commit a crime. Both counts can carry the death penalty.
The jurors' faces were solemn as the verdict was about to be read. One female juror took a deep breath, and a male juror bowed his head.
While Alexander's supporters cheered the verdict, the news was a blow for Arias' relatives.
"I'm very upset about it, but I have to live with it. There's nothing I can do about it," said Jodi Arias' grandfather, Sonny Allen, by phone from his home in Yreka, Calif. "I don't think she deserves death."
Allen's daughter, Jodi Arias' aunt, Sue Ann Halterman, called him about the verdict shortly after it was read, he said. Allen added that it had come as a complete shock to him when police came to his house to arrest his granddaughter in July 2008.
"To tell you the truth, I would never have believed she'd have done it if she hadn't confessed. She didn't want to kill anything; she wouldn't even kill a damn yellowjacket," he said.
Alexander's siblings also released a statement through the Phoenix law firm of Buesing, Hernacki & Beckstead PLLC, in which they pledged to file a wrongful death civil suit against Arias. They thanked the public for "the outpouring of support" and asked for privacy through the sentencing phase.
David Hughes, a friend of Alexander who also knew Arias, said that when the verdict was read "it felt like everything was going in slow motion."
"Everybody was so happy at the verdict," he said of the family members and friends. He said he looked at Jodi Arias after the verdict was read. "She had no emotion … but after the way she's behaved the last five years, it didn't surprise me."
Chris Hughes, David's brother and also a friend of Alexander's, said he was pleased with the verdict. He was in the courtroom and met with the family.
"I've got faith in the jury. They did a great job," Chris Hughes said. "It's been five years — a long time coming."
Noting that Arias once said on TV that no jury would ever convict her, Hughes added: "This jury did convict her."
Outside the courtroom, a crowd of a few hundred people erupted in cheers after the verdict. Some held homemade signs in support of Alexander and took commemorative photos in front of the courthouse.
Dave Hall, a friend of Alexander's, shouted, "Justice for Travis! Justice for Travis!"
"Five years of waiting for this, of her stalling this out, trying to get out of this, lying, manipulating," he said. "Now the citizens of Arizona have seen her lies, they've spoken in unison, and they don't buy any of her garbage."
Regarding Arias' seeming lack of reaction to her verdict, he said, "You have to be callous with your emotions if you can slit another person's throat, stab him in the back and then go make out with somebody else. She's an animal."
When the jury meets today, they will begin considering aggravating factors that would make Arias eligible for the death penalty and must unanimously agree on Arias' sentence. The judge does not have authority to override the jury's decision.
The prosecution alleged cruelty as an aggravating factor in Arias' case. For a finding of cruelty, the jury must agree that the victim, while conscious, experienced mental and physical pain and that the defendant knew or should have known that the victim would suffer, said Dale Baich, an assistant federal public defender in Phoenix who handles capital case appeals and is not involved in the Arias case.
If the state has proven beyond a reasonable doubt that the crime was especially cruel, then the trial moves into the penalty phase with one of three options: death,

25 years to life in prison, or life in prison without the possibility of parole.
If the jury does not find an aggravator, then the judge imposes a sentence of either 25 years to life in prison or life without the possibility of parole, Baich said.
During the penalty phase, the defense will have the opportunity to present "mitigating factors," or reasons to show leniency for Arias.
Republic reporters Anne Ryman, Bob Ortega, Sean Holstege, JJ Hensley and Michael Kiefer contributed to this article.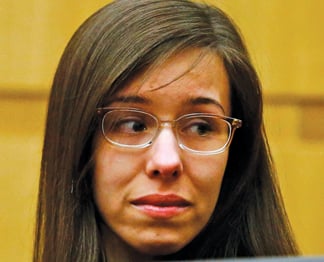 Jodi Arias says she prefers death penalty
PHOENIX — Jodi Arias spent 18 days on the stand sharing intimate, emotional and oftentimes X-rated details of her life before a rapt television and online audience. She had hoped it all might convince a jury that she killed her one-time boyfriend in self-defense.
But the eight men and four women on the panel didn't buy it, convicting Arias of first-degree murder after only about 15 hours of deliberations. Jurors will return to court Thursday to begin the next phase of the trial that could set the stage for Arias receiving a death sentence.
It's a punishment that Arias herself says she wants, telling a TV station minutes after her conviction that she would "prefer to die sooner than later."
"Longevity runs in my family, and I don't want to spend the rest of my natural life in one place," a tearful Arias told Fox affiliate KSAZ. "I believe death is the ultimate freedom and I'd rather have my freedom as soon as I can get it."
The case elevated the unknown waitress and aspiring photographer to a household name, with a real-life story of love, betrayal and murder far more alluring than any made-for-TV movie. The crime itself was enough to grab headlines: Arias, a 32-year-old high school dropout, shot Travis Alexander in the forehead, stabbed him nearly 30 times and slit his throat from ear to ear, leaving the motivational speaker and businessman nearly decapitated.
She claimed he attacked her and she fought for her life. Prosecutors said she killed out of jealous rage after Alexander wanted to end their affair and planned to take a trip to Mexico with another woman.
Arias' four-month trial quickly became a media sensation — ratings gold for cable networks that could broadcast from inside the courtroom and feed an insatiable public appetite for true-crime drama delivered live and up-close. It was, for many, the horrible train wreck they just couldn't turn away from, even though they know they should.
Arias fought back tears as the verdict was announced Wednesday in the hushed, packed courtroom, while Alexander's family members wept and hugged each other. They wore blue ribbons and wristbands with the words "Justice For Travis." The family thanked prosecutor Juan Martinez and a key witness and said it appreciated the outpouring of support from the public.
Outside, a huge crowd that had gathered on the courthouse steps screamed, whistled and cheered the news in a case that has attracted fans from across the country who traveled to Phoenix to be close to the proceedings.
Alexander's friend Chris Hughes said he was happy with the verdict, pointing out a bold proclamation that Arias made in one of her jailhouse interviews that she wouldn't be found guilty.
"She said, 'No jury would convict me. Mark my words.' This jury convicted her," Hughes said. "Luckily we had 12 smart jurors. They nailed it."
When asked about Alexander's family, Arias told the station (http://bit.ly/15qG7aP), "I just hope that now that a verdict has been rendered, that they'll be able to find peace."
The Maricopa County Sheriff's Office said no more media interviews with Arias would be granted. She has been placed on suicide watch.
Testimony in Arias' trial began in early January. The trial quickly snowballed into a made-for-the-tabloids drama, garnering daily coverage from cable news networks and spawning a virtual cottage industry for talk shows, legal experts and even Arias, who used her notoriety to sell artwork she made in jail.
The trial now moves into the so-called aggravation phase during which prosecutors will argue the killing was committed in an especially cruel, heinous and depraved manner that should allow jurors to consider the death penalty. Both sides may call witnesses and show evidence. If the panel finds the aggravating factors exist, the trial then moves into the final penalty phase during which jurors will recommend either life in prison or death.
Despite her comments about wanting to die, it's up to the jury to decide whether to recommend death.
Authorities said Alexander fought for his life as Arias attacked him in a blitz, but he soon grew too weak to defend himself.
"Mr. Alexander did not die calmly," Martinez told jurors in opening statements.
Arias said she recalled Alexander attacking her in a fury after a day of sex. She said Alexander came at her "like a linebacker," body-slamming her to the tile floor. She managed to wriggle free and ran into his closet to retrieve a gun he kept on a shelf. She said she fired in self-defense but had no memory of stabbing him.
She acknowledged trying to clean the scene of the killing, dumping the gun in the desert and working on an alibi to avoid suspicion. She said she was too scared and ashamed to tell the truth. However, none of Arias' allegations that Alexander had physically abused her in the months before his death, that he owned a gun and had sexual desires for young boys, were corroborated by witnesses or evidence during the trial. She acknowledged lying repeatedly before and after her arrest but insisted she was telling the truth in court.
Arias spent 18 days on the witness stand describing an abusive childhood, cheating boyfriends, dead-end jobs, a shocking sexual relationship with Alexander, and her contention that he had grown physically violent.
A defense expert later testified that Arias suffered from post-traumatic stress disorder and dissociative amnesia, which explained why she couldn't recall much from the day of the killing. Another defense witness concluded that Arias was a battered woman.
Martinez worked feverishly to attack the credibility of the defense experts, accusing them of having sympathy for Arias and offering biased opinions.
Aside from her lies, Arias had another formidable obstacle to overcome.
Her grandparents had reported a .25-caliber handgun stolen from their Northern California home about a week before Alexander's death — the same caliber used to shoot him — but Arias insisted she didn't take it. Authorities believe she brought it with her to kill him. The coincidence of the same caliber gun stolen from the home also being used to shoot Alexander was never resolved.
Meanwhile, the entire case devolved into a circus-like spectacle attracting dozens of enthusiast each day to the courthouse as they lined up for a chance to score just a few open public seats in the gallery. One trial regular sold her spot in line to another person for $200. Both got reprimands from the court, and the money was returned.
Many people also gathered outside after trial for a chance to see Martinez, who had gained celebrity-like status for his firebrand tactics and unapologetically intimidating style of cross-examining defense witnesses.
The case grew into a worldwide sensation as thousands followed the trial via a live, unedited Web feed. Twitter filled with comments as spectators expressed their opinions on everything from Arias' wardrobe to Martinez's angry demeanor. For its fans, the Arias trial became a live daytime soap opera.
Keywords:

alexander, arias, murder, maricopa county sheriff office, twitter, television film, posttraumatic stress disorder, ksaz-tv,

Jodi Arias guilty of 1st-degree murder, Arizona, News,

Jodi Arias guilty of 1st-degree murder, Arizona, News,

Jodi Arias guilty of 1st-degree murder, Arizona, News,

Jodi Arias guilty of 1st-degree murder, Arizona, News,

Jodi Arias guilty of 1st-degree murder, Arizona, News,

Jodi Arias guilty of 1st-degree murder, Arizona, News,

Jodi Arias guilty of 1st-degree murder, Arizona, News,

alexander, arias, murder, maricopa county sheriff office, twitter, television film, posttraumatic stress disorder, ksaz-tv,

Jodi Arias guilty of 1st-degree murder, Arizona, News,

Jodi Arias guilty of 1st-degree murder, Arizona, News,

Jodi Arias guilty of 1st-degree murder, Arizona, News,

Jodi Arias guilty of 1st-degree murder, Arizona, News,

Jodi Arias guilty of 1st-degree murder, Arizona, News,

Jodi Arias guilty of 1st-degree murder, Arizona, News,

Jodi Arias guilty of 1st-degree murder, Arizona, News,

alexander, arias, murder, maricopa county sheriff office, twitter, television film, posttraumatic stress disorder, ksaz-tv,

Jodi Arias guilty of 1st-degree murder, Arizona, News,

Jodi Arias guilty of 1st-degree murder, Arizona, News,

Jodi Arias guilty of 1st-degree murder, Arizona, News,

Jodi Arias guilty of 1st-degree murder, Arizona, News,

Jodi Arias guilty of 1st-degree murder, Arizona, News,

Jodi Arias guilty of 1st-degree murder, Arizona, News,

Jodi Arias guilty of 1st-degree murder, Arizona, News